Project Description
Women's Economic Imperative at the 2018 T20 Buenos Aires Summit
Women's Economic Imperative (WEI) was well-represented and contributed substantively during the T20 Summit in Buenos Aires, Argentina!
WEI Board Members Barbara Orser and Amadou Mahtar Ba were discussants in several sessions and side events and CEO – Margo Thomas was Co-Chair of the Gender Economic Equity Task Force.
In addition, WEI partners were represented by Women's Enterprise Scotland's (WES) CEO – Carolyn Currie and Board Chair – Lynne Cadenhead. Carolyn and Lynne were members of the Task Force and contributed to the Policy Brief on the Economic Empowerment of Rural Women.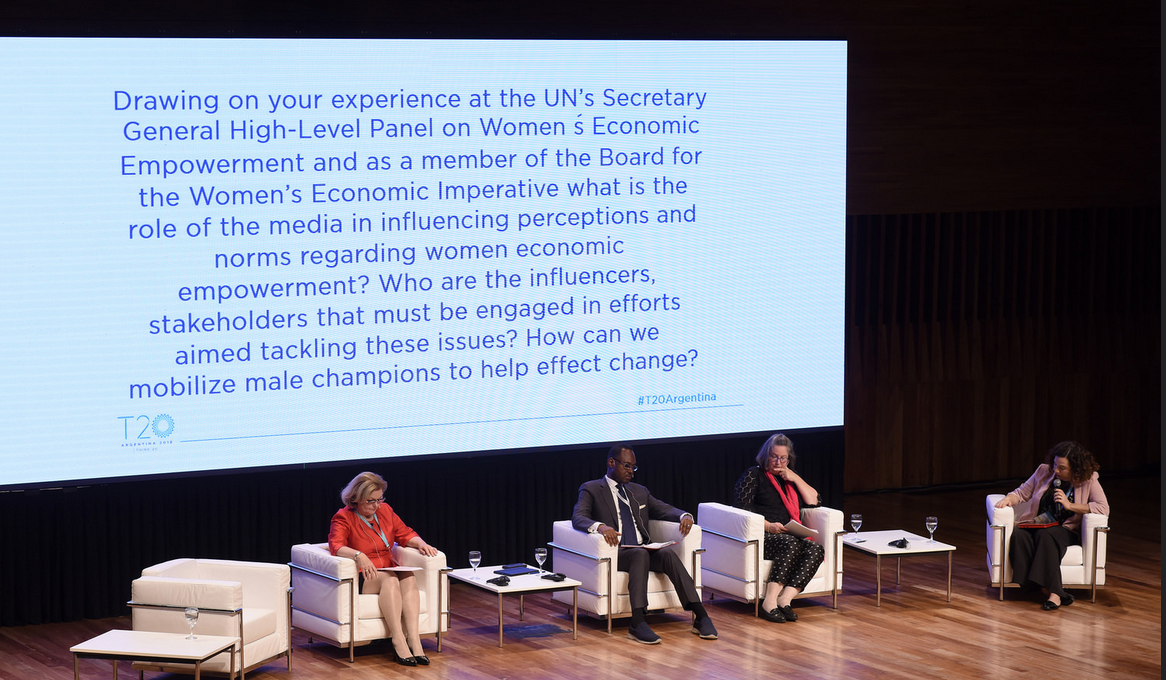 Board Members Orser and Ba participated in a plenary panel on Gender Economic Equity:
Barbara presented her work on women's entrepreneurship, drawing on one of her recent books – Feminine Capital; and
Amadou spoke about the role of the media in influencing perceptions and norms on women's economic empowerment
In addition, Barbara was a keynote speaker at a symposium hosted by the Argentine Ministry of Labour and Social on Women, Labour and Economic Growth
Margo Thomas, WEI CEO, served as Co-Chair of the Gender Economic Equity Task Force and co-leader on the women's empowerment agenda of the T20. In this capacity, she moderated sessions at the Summit and Ministry of Labour side event, in addition to participating in the closing plenary session – keynote conversation with think tank leaders and President Macri's Chief Minister – Marcos Peña.